Job Portal Platform- A complete Job portal website with full Source Codes.
One who is looking to create JOB PORTAL website and seeking for cool and niche design for their requirement, then this Php Script is made for you.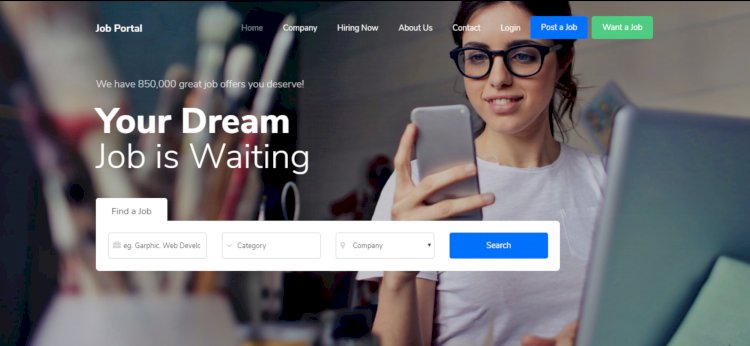 Job Portal Platform- A complete Job portal website with full Source Codes.
This Job Portal is a web-based system that its main goal is to provide the right company or organization for job seekers with their experience, educational qualification and preferences this job portal shows the list of companies that match their skills. In this system, job seekers can upload their existing resume so and can apply directly to posted jobs. The admin of this system has the ability to view list of job applicants and can contact them, for an interview or make some action regarding to their post.
READ ALSO: Online Exam Android App with Admin Panel

FEATURES
Job Seeker
Job Provider
Administrator
Job Search
Indeed Job Search (New)
Job Seeker
This module contains details about Job Seeker, i.e. employee or un-employee details. Like employee name, email, experience. Here employee can do update, modify and delete. He can update experience and skills details also.
READ ALSO: Task Reminder app with Free Sourcecode
Job Provider / Company
This module having information about job provider and requirement details, which client recruiting the employees, and what based them recruiting the employees? Here client releasing the primary skills, experience, no. of vacancies, opening date and closing date.
Administrator
The administrator module having all privileges about this entire project, he can update, delete, and modify the details about job seeker, job provider, email content, CMS, bulk emails etc. Administrator maintain the client and job seeker database, where ever client is releasing their requirements( vacancies) with particular primary skills and experience, on that time administrator search for job seekers, who are having that primary skills and experience.
Job Search
This module having all current vacant jobs, experience and which client offering that vacancy.
READ ALSO: Customer Relationship Management System
INTRODUCTION TO FUNCTIONALITY
MAIN WEBSITE:
From main website, user can perform following actions:
Search jobs on the basis of skills, city, country or job title.
Register as a jobseeker or as a job provider.
Login to jobseeker or job provider portal.
JOB SEEKER:
After registration job seeker can perform following actions:
Search for jobs
Apply Online for desire job
Add/Edit profile information including qualification, experience, and skills.
Build his resume by using CV builder functionality of the website.
Upload latest resume.
JOB PROVIDER / COMPANY:
After registration job provider can perform following action:
Add / Edit company's profile
Post new job vacancies
Edit / Deactivate posted jobs
Job provider can see the list of jobseekers who has applied for the job
Job provider can search jobseekers
Job provider can see and download the jobseeker's resume
Job provider can send message to any job seeker
ADMINISTRATOR:
Administrator can manage whole website:
Manage complete jobseeker section. Like: activate/deactivate/delete/ edit jobseeker's information.
Admin user can view the jobseeker's applications for each job.
Manage complete employer section. Admin user can activate/deactivate/delete/ edit company information.
Manage posted jobs. Like: activate/deactivate/delete/edit posted job.
Manage whole website content. Dynamic CMS is included to manage the content of the website.
Admin user can send message to any jobseeker or job provider.
Admin user can send bulk emails as well.
Admin user can manage the skills section. Like: Add or remove skills from the website.
Manage newsletters section
Manage success stories
Admin user can manage and handle the prohibited words for whole website.
Admin user can add/edit countries, cities, salaries range, qualification, institutes, job industries, website ads.
Fonts used
All fonts are free and which can be eeasliy obtain from Google fonts
Libre Baskerville'
'Source Sans Pro'
sans-serif;
You can access this system using the following accounts
Username : admin
Password : admin
Installation Guide
Download xampp latest version.
Extract the zip file(downloaded system) and put in the htdocs
open xampp and start apache and mysql
go "localhost/phpmyadmin/" and create a database named "db_jobportal"
find the database file inside the folder and Import the database file name "db_jobportal".
LOGIN/REGISTER TO DOWNLOAD THE FREE SOURCECODES BELOW


For more information about the system. You can contact me @
Email –geeksourcecodes@gmail.com
Mobile No. – +254714643906
Or feel free to comment below.
Here you will see complete Nokri Best Wordpress Job Board Theme options.????✨#Best #JobPortal #JobCareer #WordpressTheme
Watch here????https://t.co/xaRh68nqDz

— Nokri Job Board Theme (@OpportunitiesWP) January 7, 2020
Nokri is advanced Job Apps for android. Using Job Board App you can create a complete & fully Responsive Job posting website. All your data will be synced between apps and website.#JobPortal #JobSearch #MobileJobs #JobsApps
Purchase it from Codecanyon⏬https://t.co/H5S03HKuH4 pic.twitter.com/tejHbEF97g

— Nokri Job Board Theme (@OpportunitiesWP) January 3, 2020
Planning to create a job portal website? Here are the 4 steps to create a job portal website to stay ahead of your competition:#jobportalwebsite #jobportaldevelopment #jobportal #webdevelopmentcompanyhttps://t.co/dwfKcq3MPo

— Fikercel (@Fikercel) January 3, 2020
Fired from work? Try these steps and you'll immediately see the light at the end of the tunnel ↪️ https://t.co/8Ubp90XIy7#jobfired #jobportal #workhelp #workhappy #motivation #coach #coaches #coaching pic.twitter.com/ranz2UkFr1

— Sidar Ok (@sidarok) January 3, 2020
SUBSCRIBE TO OUR YOUTUBE CHANNEL BELOW TO WATCH MORE VIDEOS