Advantages and disadvantages of V-Model
These are Summary of the Best Advantages and disadvantages of V-Model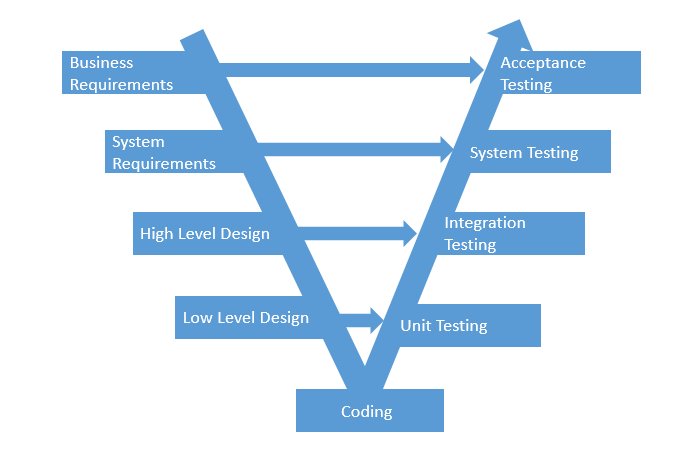 Image of Advantages and disadvantages of V-Model
Advantages of V-Model.
1.The model is simple and easy to use hence suitable for customers to understand their project.
2. Convenient for small projects.
3. Progress of a project is easy to track through the phases.
4. Errors are detected and prevented at an early stage.
READ ALSO: What we KNOW and DON'T KNOW about innovation (2 min read)
Disadvantages of V-Model.
1. Not suitable for large and complex projects.
2. Many adjustments and changes take place during the development of a project which lead to wastage of time.
3. The methodology is not flexible.
4. The end users have to wait for the implementation phase to end in order to use the project or system.
READ ALSO: 10 BEST Mobile Apps That Must Have Given You A Productivity Boost in 2019.
To know all about the #VModel and to simplify your software development process, follow the link: https://t.co/EsX30JBxhR #Softwaredevelopment #Programming #Developer #Programmer #SoftwareDevelopment #Development pic.twitter.com/CZiU1Ri7Pi

— Professional QA (@ProfessionalQA) October 15, 2018
The Waterfall Model for Quality Assurance #VModel....
.
.https://t.co/bzbaRjFXEJ
.
.@AleaIT #quality #testing #Analytics #analyst #developers #development #Coding #ecommerce #IoT #InternetOfThings #MobileApp #app #Apple #Python #PythonBeginners沖縄 #angular7 #angularjs pic.twitter.com/QfOPWX4ukp

— Alea IT Solutions (@AleaIT) April 24, 2019
Don't miss the 1st part of our new blog series about test management: https://t.co/lBicNDsKbK that provides you with an overview of #testmanagement approaches and successful implementations. #Vmodel #lifecyclemodel #testcylce #testphases #software #testing #tools pic.twitter.com/Da5LR3yTfM

— Woodmark Consulting (@WoodmarkAG) October 22, 2019
#agile
Think test first and test automation
Generate tests for everything ideally before the item is created, for both:
. Functional Reqs (Feature and Stories) and
. NonFR (performance, reliability, …)
Traditional #Vmodel delays feedbackhttps://t.co/ZF9F8b50MZ pic.twitter.com/SysSQDpewj

— Jorge Salinas (@jsalinaswork) July 18, 2019
How software testing life cycle (#STLC) works in #Waterfall, #VModel and #Agile? https://t.co/W3JbJsrKuK via @AskTester pic.twitter.com/zpcELgyjpi

— Abstracta (@AbstractaUS) June 4, 2019
In #SoftwareDevelopment, the #Vmodel represents a #development process. Instead of moving down in a linear way, the process steps are bent upwards after the coding phase. This demonstrates the relationships between each phase of the development life cycle & phase of #testing. pic.twitter.com/X312sKrQcG

— PrathamSoftware(PSI) (@Pratham_PSI) March 24, 2019
Sliced #vModel also for #agile manufacturing #projects @AndreasDeuter @IWSMMensura 2015 pic.twitter.com/AVkffrDGaj

— GUFPI-ISMA (@GUFPI_ISMA) October 6, 2015
SUBSCRIBE TO OUR YOUTUBE CHANNEL BELOW TO WATCH MORE VIDEOS